Home
>
Materials in Braille
Materials in Braille
Today, there are accommodations that help individuals who are blind or who have low vision meaningfully participate in the life of the Church as students, clergy members, pastoral leaders, teachers, and more. Parishes can help to promote the meaningful participation of these individuals by offering parish materials in braille, in large print, and in electronic format. It is important to be aware of the accommodations available for people who are blind or who have low vision so that parishes can benefit from the vocations of more individuals.


Ordering materials in Braille

Since 1900, Xavier Society for the Blind has been providing braille materials to patrons of all ages, both lay and religious, in order for them to learn about, develop and practice their Faith.

Mass Propers - provides The Propers of the Sunday Mass

– these are the readings, responses and prayers for the Mass on Sundays, special Feast Days and Solemnities. Many of Xavier Society clients are lectors in their parishes and use the propers to serve their communities.

Books - offers a catalog on our secure online catalog

of over 800 braille titles, ranging from biographies of saints to theological dissertations and even contemporary titles by popular authors like Matthew Kelly and Father James Martin, SJ.

Periodicals - produces the magazine The Catholic Review,

distributed in braille three times a year. It is a compilation of outstanding articles from periodicals such as

America

magazine,

Catholic Digest, Our Sunday Visitor, Maryknoll

and many more.

In addition to

The Catholic Review, they also send their magazine,

The Xavier Review

, three times a year in braille.

The Xavier Review

rounds up the latest news from Xavier Society, recent additions in braille and audio, and other useful information. Both

The Catholic Review

and

The Xavier Review

are available for download in audio and BRF for patrons.

Special Requests - welcomes and encourage special requests as they arise. For instance, each year we regularly braille selected catechetical textbooks (especially as needed for young people in catechism classes), major Vatican documents, and prayers and devotions for specific celebrations or religious groups. We are always open to suggestions of new materials that our clients may need or want, and we always try to fill special requests when we receive them. Please keep in mind we have one transcriber in house, so we try to accommodate special requests when we can, but it is not always possible.
Contact Information Xavier Society For The Blind 248 West 35th Street Suite 1502, New York, NY 10001-2505 PHONE (212) 473-7800 FAX (212) 473-7801 EMAIL info@xaviersocietyfortheblind.org
If you are a client and in need of your log-in details to download audio or BRF files, please contact Client Services at 212-473-7800 or clientservices@xaviersocietyfortheblind.org.
Interacting with People with Vision Loss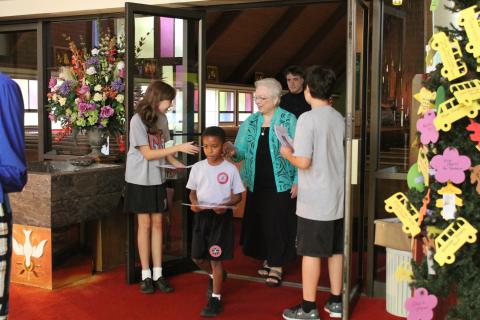 20.6 million American adults are blind or living with vision loss that is not corrected by wearing glasses or contact lenses (National Health Interview Survey 2012). The following are some tips to facilitation interaction among people with and without 20/20 vision.
Do…
Identify yourself as you approach a person who is blind; in a group situation, identify the person to whom you are speaking.
Ask a blind person if they would like you to guide them through an unfamiliar area. If they say yes, offer your elbow and walk one step ahead of them. Guide their hand to the back of the chair or handrail when approaching a seat or steps.
Walk on the opposite side of a guide dog and describe any obstacles, like a bump in the sidewalk or approaching stairs (specify up or down).
Talk in a normal tone of voice; avoid the tendency to speak loudly to blind people. Tell a blind person when you leave their presence and make certain they know where the nearest exit is if they are left alone in the room.
Provide a well lit, but non-glare environment.
Provide handrails on both sides of stairs extending beyond the top and bottom step.
Use a contrasting color at the edge of the step.
Provide written material in alternate formats as needed: large print, Braille, audio, or electronic.
Provide audio description of visual portions of liturgies or presentations.
Offer to read aloud written information, such as flyers, bulletins, or menus.
For the Eucharist, when offering a blind person, the cup, tell them how full it is.
Don't…
Don't grab a person's arm to guide them
Don't leave entry doors, cabinets doors, or drawers half opened.
Don't rearrange furnishings without informing a person who is visually impaired.
Don't pet a working guide dog.
Don't assume all blind people read Braille.
Don't try to avoid using expressions with the words "see" and "look".
Don't mistakenly believe that senses or hearing, smell, or touch are more acute for people with vision loss.
Click on the link to find additional resources and information provided by the National Catholic Partnership on Disabilities NCPD